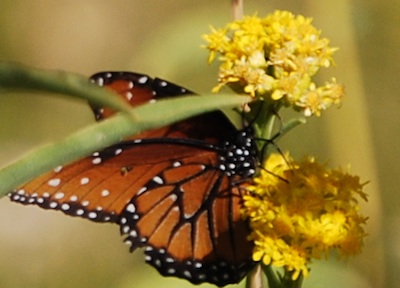 As I look over my own life, and the lives of family, friends and clients, I find that when in a space of clinging to what we believe to be what we want, what we think we need, or how we believe others should be, we often stop the energy of 'possibility'.  When we believe life should be so tightly defined that we don't allow room for the creativity of other possibilities to unfold, we can actually sabotage our own process.
Often I think of the concept of  'transformation' and what that means for us living in this century, with all of the possibilities that we have before us.  I am reminded of the Butterfly and what it took for it to move through its own transformation.  As a caterpillar, the being was simply crawling along in life, not sure of what direction it was taking.  Then one day, instinctually it clung to a twig and began to form a cocoon around itself.  Did it have any idea why it was doing so?  I think not, yet it was doing what it was called to do, to enter into the cocoon and allow the transformation to take place.
In order for the caterpillar to transform into a beautiful butterfly, as it was wrapped in the cocoon, it first had to 'let go' of the twig.  The caterpillar had to trust and fall into the cocoon.  Had it continued to cling to the twig, perhaps frightened of letting go, it could never experience the totality of metamorphosis. It never would have transformed into a being that could not only have the freedom to fly, but to bring such delight and beauty to others.
We know that for life to be lived in the fullest manner possible, it is important to have vision, to be clear about what it is that we want.  Sometimes though, the clinging to what we think life should be actually takes on a destructive pattern. This pattern keeps us from living the freedom and beauty that we were called to live.
I know in my own life there has been a recent chapter when I clung so tightly to what I believed should be happening that I did indeed impede my own transformation.  My energy was stuck. There was no flow to my life or my relationships, and I just could not figure out why things weren't working the way I thought they should.
I was certain that if I just affirmed and visioned with enough feeling,  my husband would be cured of cancer, my closest friend would get sober, our home would sell, and on and on… all would be right.  It was only when I came to a place of 'letting go' of the exactness of how life should look, that just like the butterfly, I was in a space to experience what I never could have dreamed possible.
When I let go, I experienced a profound knowingness that: what I did have control over was how I 'showed up', not the journeys or life lessons of others, I would hear my calling, I would flow into my life work.  When I allowed myself to fall into this cocoon of knowingness, the metamorphosis began. During this time I found the following to be a mantra and great comfort:
 LET GO AND LET GOD
 AS CHILDREN BRING THEIR BROKEN DREAMS,
WITH TEARS FOR US TO MEND,
 SO I BROUGHT MY BROKEN DREAMS TO GOD,
BECAUSE GOD WAS MY FRIEND.
 BUT THEN INSTEAD OF LEAVING GOD
IN PEACE TO WORK ALONE,
 I HUNG AROUND AND TRIED TO HELP,
WITH WAYS THAT WERE MY OWN.
 AT LAST I SNATCHED THEM BACK AND CRIED,
"HOW COULD YOU BE SO SLOW?!"
 "MY CHILD," GOD SAID,
"WHAT COULD I DO?  YOU NEVER DID
'LET GO'?"
                                                                                              (Author unknown)
How often we think that we have let go, only to snatch it back.  The gift is in  placing it gently in the hands of God and then walking away, trusting in the goodness of the Universe and the possibility of true transformation.  May we all show up each day in a space of awe, wonder, beauty, joy and pure gratitude.
Share